Vedaearth - is a brand devoted to producing safe and natural healing products in the line of self-care; skincare, haircare, body care, makeup, wellness, and spa. 
Vedaearth aims to revolutionize the cosmetic industry in a holistic manner and bring to the market products that are cruelty-free, effective, and beneficial to the users.
Vedaearth needed to be branded creatively to create an impact within the market, as it lacked a unique shelf presence.
Seed assisted with the design of the bottles of the products, and curated them in a catchy manner, thereby helping to increase the attention towards the grand.
Seed also conducted product sampling activities and created a space for Veda in the market. 
It was branded in an entirely new fashion and launched into the market.
Mental health is a concerning topic with the current generation and the one we seek help for the most. 
RYT.life is a company taking a beautiful step towards understanding, nurturing, helping, and being the first help anyone goes to for mental health assistance with great doctors, therapists, and psychologists we gave them the helping hand to create that platform for speaking about it and helping the people with their best tech.
This company was a startup, to begin with. The idea here was to build everything up from the small blocks like ideas and then create it to a bigger platform. 
​​​​​​​
Process 1
- 
Always starting with the idea, theory, purpose, proposal, contract, the deadlines and continuing this with the chat, calls, meet up, we started this project with the right minds and process. 
With the signature weeks process of branding, launch sessions we provided them with the required needs and designs to get a head start. And this helped us be in the flow of the project.
Process 2
- 
The next part was creating a logo. The logo and thinking behind it is a concept based on RYT meaning "rejuvenate your thoughts " hence the R means words like resourceful, refreshing, right, etc. 
The letter Y was shaped like a tuning fork which meant a good vibration a person needs to understand their problems and find solutions. the tune of your mind affects a lot of your physical, emotional well-being. The letter "T" means thoughts that are related again to your mind.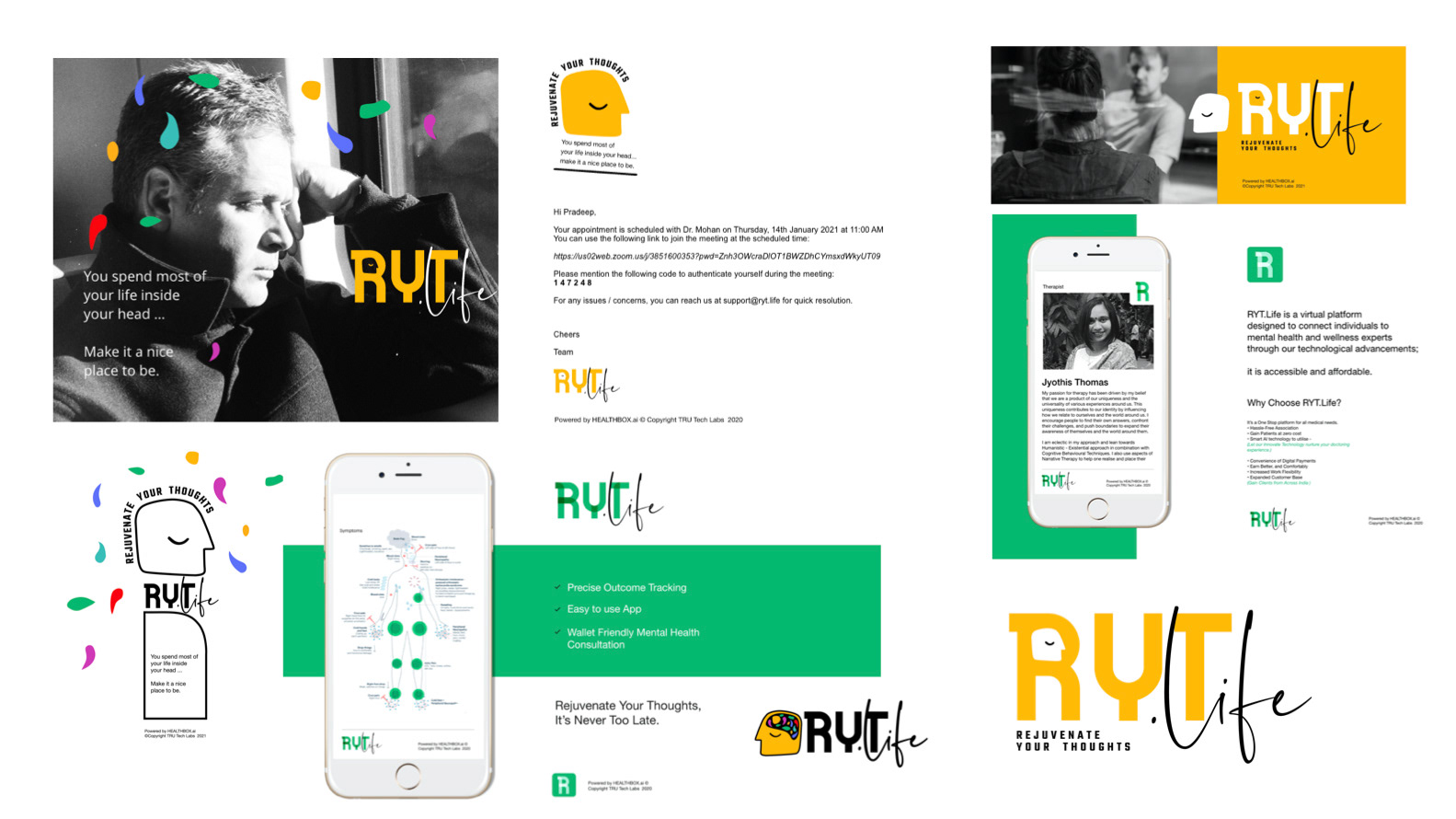 Process 3
- 
After this we focused on the website and its content. Since the platform talks about mental health we had to make the website a bit refreshing, knowledgeable, and user-friendly. 
​​​​​​​
Process 4
- 
An idea for the sales pitch and presentation template was also provided. 
With the process finally being done, it was a great wish and good luck that we see them achieve the success they seek.